Brocatelle Genji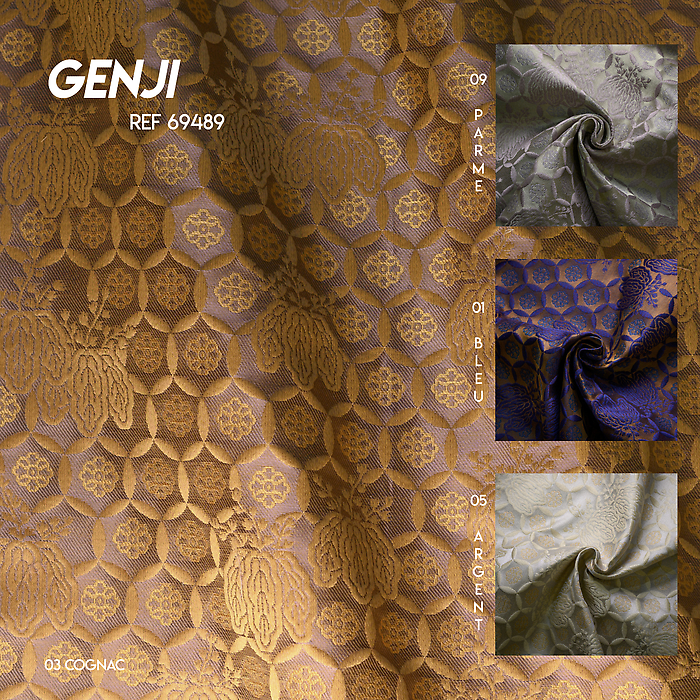 128cm - 50.39" wide
Linen 53% Cotton 32% Silk 15%
Repeat of 55 cm - 21.65" wide
4 colors
True know-how often reveals itself through a story.
We found inspiration thanks to the depth and richness of our archives. It is with an ancient woven polychrome lampas of an Obji, a Japanese belt for kimono, that Genji is born. The motifs of leaves and flowers of Paulownia have been used in Japan since the 14th century as emblems intended to honor deserving individuals. By weaving this document through the brocatelle technique, the honeycomb-like figure is almost embossed and the figurative design brings depth with a subtle play of colors that contrast the silky background. Download the technical file
Griffon
124cm - 48.82" wide
Spun Viscose 88% Linen 9% Viscose 3%
Repeat of 42 cm - 16.53" wide
4 colors
While the original archive was a silk damask, we have reinterpreted this Renaissance style document in a "toile" version, bringing the subtle alliance of a generous texture and a rich design of stylized crowns, interlaced hearts and various mythological creatures represented at that time.
This design's daydream allow the use of this fabric not only in classical interiors but also in more unexpected contexts as well.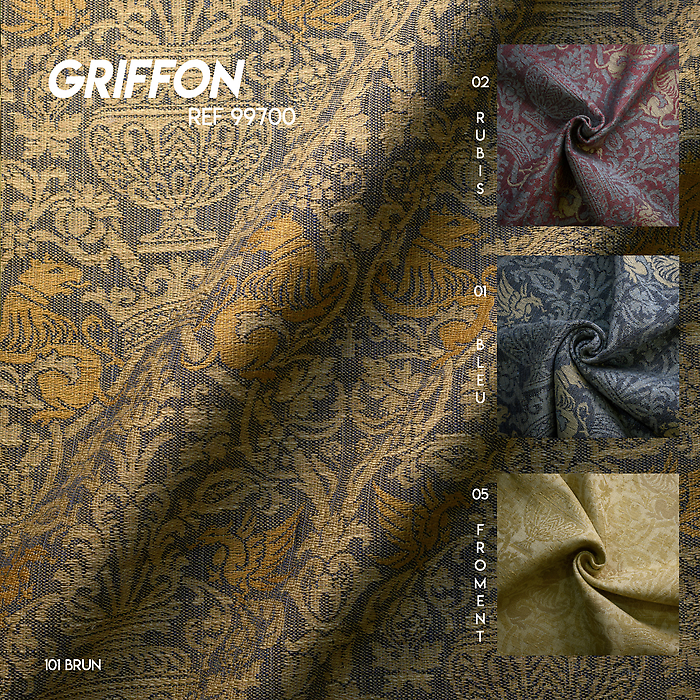 Kouba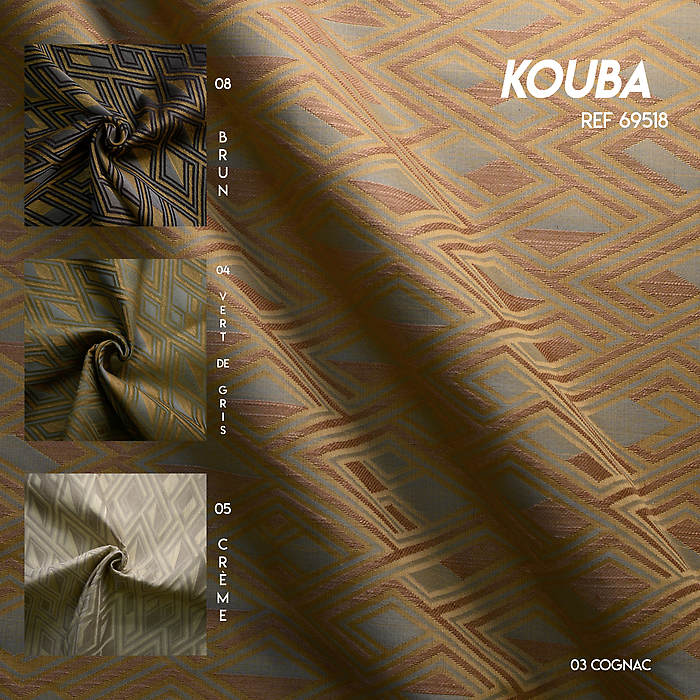 128cm - 50.39" wide
Cotton 51% Spun viscose 34% Linen 15%
Repeat of 46cm - 18.11"
4 colors
Behind these simple geometrical patterns, one can discover the "Kasai Velvet" of the Kuba people of Zaire who bring a great importance to arts, ceremonies, personal ornaments and presentation. The introduction of this embroidered velvet technique in this part of Africa dates back to the 17th century.
The design takes root from the wooden sculpted design and the ethnic scarifications done at the time. Used for the Royal Court, the "velvets" were also used as currency. To honor this craft, Kouba acts as a modern interpretation and the delicacy of its pastel colors suggests a pure and refined design.